The rise in popularity of video poker is unabated. Casinos too are trying to make the pot sweeter by means of promotions, bonuses and incentives. Casinos have also changed some rules here and there in order to make the game popular. So, video poker rules are not the same as poker rules. You need to learn the basics of video poker in order to win your hand in video poker. In video poker there are some departures from poker rules. You need to learn them well. Let's start with ranking of the cards.
The ranking of the cards is the basic framework of any card game. If you are an avid poker enthusiast and are well aware of the ranking of cards, here is a snippet about the ranking of cards in accordance with video poker rules from low to high.
This is the lowest poker hand in video poker unlike High card in Texas Hold'em. It consists of two cards of the same value or kind, i.e. 3, 3, 8, 10, J, K, etc.
Two Pairs beats one Pair and it consists of two sets, each of which contain two cards of the same value or kind, e.g. 4, 4 – 7, 7, etc. Note that in Poker, you need two sets of cards of different values only to make Two Pairs.
Three cards of the same kind or value, e.g. 5, 5, 5, J, Q, etc. Note that in Poker you would have Three of a Kind only when you have three cards of the same rank as well as two non-paired cards.
If you get 5 cards in numerical order, i.e 5, 6, 7, 8, 9, you get a Straight in video poker.
If you get 5 cards of same suit you get a Flush.
If you get a Pair as well as Three of a Kind in one hand, e.g. 4, 4 & 7, 7, 7, you get a Full House
Four cards of the same suit or value such as 9, 9, 9, 9 of Spades. Here is a departure from Poker where four cards of the same suit don't make Four of a Kind.
If you have a combination of a straight and a flush, i.e cards of the same suit in numerical order, you get a Straight Flush. So, you may have 2, 3, 4, 5, 6 of Diamonds.
The highest straight flush possible, i.e. 10, J, Q, K, A of a suit.
Although online video poker rules owe their origin to the basic five-card game of table poker, there are subtle differences. They have been designed to make video poker more attractive and popular like multi-spin slot machines.
In playing video poker, both the player and the machine need to act twice much like playing a multi-spin slot game. As soon as you place a bet and the machine deals its hand, you need to decide on the cards that you need to hold, and then select them. The machine would automatically replace the cards that you don't select.
Technically various video poker games are basically the same across online casinos; there are only a few minor changes in video poker rules in different casinos. The major difference across casinos is the payout table which determines the payout to the player.
Progressive Jackpot Video Poker Games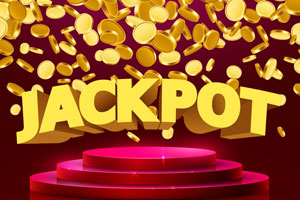 There are progressive jackpot video poker games that pay out only when the player secures a Royal Flush. But these games share jackpots with a group of games that contribute to your jackpot continuously.
Playing Video Poker Games
Once you enter an online casino, select video poker, and let the game load, you will find 4 buttons appear on the screen. Two of these buttons are for wagering. Among these the Bet One button lets you select the minimum wager and the Bet Max button lets you select the maximum number of cards. The Plus/Minus button lets you fine-tune the bet by lowering or raising it. Finally, there is the Deal button. You have to hit "Deal" when you are satisfied with the bet and want the casino to deal random cards.
After placing your bet, you need to push the "Deal" button to engage the machine in dealing five random face-up cards. After the machine deals the cards, you will find the "Hold" buttons appearing directly below each card. You need to select each card that you desire to select by clicking on 'Hold' below each intended card. The Deal button will reappear so that you can tell the machine to deal another pack of cards by rejecting the ones that you have not selected for the first time. This time the machine will not deal a fresh pack of 5 cards, but will only replace the cards that you have not selected by applying "Hold". The winnings are calculated after the machine deals the second set of cards. So you need to be really conversant with video poker rules in order to secure a chance for good payouts.
Double Your Winnings Or Lose All
If you get a winning hand, you will get an opportunity to double your winnings by playing for a high card. To accept the challenge you need to click on "Double". As soon as you do this, the machine will deal five cards, which will be face down unlike in a normal video poker game. The casino itself will select one of those cards to reveal randomly. In your turn, you need to select one of the remaining cards, kept face-down, to reveal. If this has a higher value compared to the one selected by the machine, you get to double your winnings. If it comes out to be lower, you lose your original bet. If you happen to secure higher value, you can again take up the challenge and go for 'Double". This can go on until you decide to get the payout or lose your original bet. If you lose the original bet you also lose all the winnings. So, if you want to play safe, you can choose to cash in after each round; just click on "Collect" on the screen.
Common Video Poker Games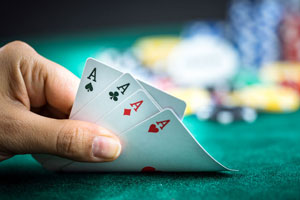 Video Poker started with one game Jacks or Better. So this is the oldest video poker game, and Video Poker Rules for playing this game are also the simplest. In tandem with increasing popularity, game software developers came out with a number of other video poker games. Some of the most common and popular among these are – Aces & Eights, Bonus Deuces Wild, Deuces Wild, Double Bonus, Double Jackpot, Jackpot Deuces, etc.
Video poker rules for Aces & Eights are pretty simple much like Jacks or Better. Set the coin level, place your bet, hit the Deal button, and get your first five cards. Select the cards you want to keep and discard others in exchange for new ones. Click Draw to receive new cards and make a final hand that is either a pair of Jacks or a better one, you would get your payout depending on your hand strength.
Deuces or 2's are considered as wild cards in this game, and wild cards add excitement to gambling. You can make strong hands by catching deuces often unlike any other video poker game. The minimum paying hand is Three of a Kind, i.e. you need to have three cards of the same kind or value. The deuce helps the player to come up with paying hands, i.e at least a Three of a Kind. In fact, deuces can also help you to get straights, four-of-a-kinds, flushes, etc. The highest paying hand is Royal Flush, but there are other high paying hands with massive jackpot rewards too. You just need to have a good knowledge of Video Poker Rules.
Rules
The maximum permissible limit is 5 coins in one go. The minimum size is 25 cents and the maximum size is $5. So, you can wager between $0.25 to $25.00 per round or hand. Now, click on "Deal" and the software will deal 5 random cards to you. Select the cards you want to keep by clicking on them and press "Draw" to bring on new cards. The payout depends on your final hand of five cards and in terms of the paytable.
In this game of video poker 2's are used as wild cards. Since it involves wild cards, you need to have a good knowledge of Video Poker Rules to secure a jackpot. To start playing, you need to first select your betting limit for each hand. To aim for big payouts you need to bet 5 coins at a time. After this, click on "Deal" and receive 5 cards. It is much like playing any other video poker, but the video poker rule for payout has been framed somewhat differently in order to account for the wild cards. After the casino deals a pack of 5 random cards, you can select and discard cards as per your hunch. Select the required cards and click on the Deal button to get new cards. In case you get any of the hands given in the paytable, you would be paid in terms of the table. However, you need to secure at least a Three of a Kind or better to qualify.